We Need to Talk about Patriarchal Motherhood: Essentialization, Naturalization and Idealization in Lionel Shriver's We Need to Talk about Kevin
Abstract
This chapter considers how <em>We Need to Talk about Kevin</em> disturbs and deconstructs the patriarchal mandates of essentialization, naturalization, and idealization. In patriarchal motherhood, it is assumed (and expected) that all women want to be mothers (essentialization), that maternal ability and motherlove are innate to all mothers (naturalization), and that all mothers find joy and purpose in motherhood (idealization). Although feminist criticism of the novel has examined various moth- erhood themes—including mother blame (Cusk), ideologies of good-bad mothering (Murphy; Muller; Robbins), maternal subjectivity and practice (Messer), and maternal ambivalence (Almond)—my reading of Kevin will seek to uncover "what lies beneath" the maternal angst discussed in the above criticism. I argue that the mother blame, "bad" mothering, and maternal ambivalence so evident in the novel and so central to discussions on the novel are the symptomatic manifestations of the essentialized, naturalized and idealized mandates and expectations of patriarchal motherhood. Eva is blamed and regarded as an ambivalent or bad mother precisely because she is seen as lacking the assumed innate desire and ability to mother as well as the happiness expected of women in and through motherhood. Kevin, thus, not only compellingly and convincingly conveys the discontents of patriarchal motherhood but, more importantly, it uncovers the cause of and reason for this maternal discontent: namely, the essentialization, naturalization and idealization of patriarchal mother- hood. In moving beyond the representation of the symptoms of women's oppression in motherhood—ambivalence, blame, guilt, judgement—to an understanding of their cause, the novel opens up the possibility for change in the novel itself and, hopefully, in the lives of the mothers reading it.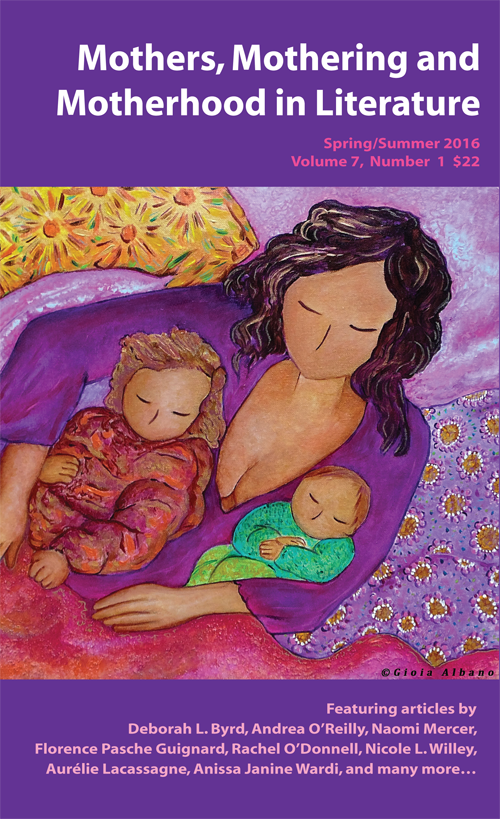 Downloads
How to Cite
O'Reilly, A. (2016). We Need to Talk about Patriarchal Motherhood: Essentialization, Naturalization and Idealization in Lionel Shriver's We Need to Talk about Kevin. Journal of the Motherhood Initiative for Research and Community Involvement, 7(1). Retrieved from https://jarm.journals.yorku.ca/index.php/jarm/article/view/40323
License
All intellectual property in relation to material included on this site belongs to the Motherhood Initiative for Research and Community Involvement (MIRCI). All material on this site is protected by Canadian and international copyright and other intellectual property laws. Users may not do anything which interferes with or breaches those laws or the intellectual property rights in the material. All materials on the Motherhood Initiative for Research and Community Involvement (MIRCI) are copyrighted and all rights are reserved. Any reproduction, modification, publication, transmission, transfer, sale, distribution, display or exploitation of the information, in any form or by any means, or its storage in a retrieval system, whether in whole or in part, without the express written permission of the Motherhood Initiative for Research and Community Involvement (MIRCI) is prohibited. Please contact us for permission to reproduce any of our materials. This site may include third party content which is subject to that third party's terms and conditions of use.