Alone in Paradise: A Review of the Literature Related to Single, Immigrant Mothers in Canada
Abstract
In most studies, the phenomena of immigration and single motherhood are examined and explored in isolation from each other. In this manuscript, we adopted intersectionality theory as the framework for examining the literature related to the lived experiences of single, immigrant mothers in Canada. We explored single motherhood and immigration in relation to multiple points of intersection concerning dimensions of cultural identity. We began by examining how intersections of gender and ethnicity affect single, immigrant mothers in terms of self-perception, sociocultural experiences, and acculturation processes. Single, immigrant mothers receive specific gendered messages from their families, cultures of origin, and Canadian culture. These messages, specific to the context of mothering, shape their cultural identity and role in society.

We also examined the impact of Canadian and country of origin mothering ideologies on single, immigrant mothers, how discourses around these ideologies endorse potentially unrealistic images of the ideal or good mother, and how they affect the mother-child relationship. Single, immigrant mothers hold multiple, nondominant intersecting identities and may not portray adherence to the dominant mothering ideologies, from either Canada or their country of origin. As a result, they are more vulnerable to marginalization, discrimination, and mental health problems. We considered how the intersections of gender, ethnicity, single motherhood, social class, and immigration affected single, immigrant mothers' labour market participation, social support, mental health, and acculturation. We offer insights into the challenges that single, immigrant mothers face and point to ways to improve social and mental health services for these women.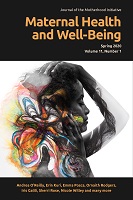 Downloads
How to Cite
Lam, G., Collins, S., & Wong, G. (2020). Alone in Paradise: A Review of the Literature Related to Single, Immigrant Mothers in Canada. Journal of the Motherhood Initiative for Research and Community Involvement, 11(1). Retrieved from https://jarm.journals.yorku.ca/index.php/jarm/article/view/40591
License
All intellectual property in relation to material included on this site belongs to the Motherhood Initiative for Research and Community Involvement (MIRCI). All material on this site is protected by Canadian and international copyright and other intellectual property laws. Users may not do anything which interferes with or breaches those laws or the intellectual property rights in the material. All materials on the Motherhood Initiative for Research and Community Involvement (MIRCI) are copyrighted and all rights are reserved. Any reproduction, modification, publication, transmission, transfer, sale, distribution, display or exploitation of the information, in any form or by any means, or its storage in a retrieval system, whether in whole or in part, without the express written permission of the Motherhood Initiative for Research and Community Involvement (MIRCI) is prohibited. Please contact us for permission to reproduce any of our materials. This site may include third party content which is subject to that third party's terms and conditions of use.