Embracing the F-Word Together: My Mom and Me Swearing by Feminism
Abstract
Activism—a playful, joyful form of activism—has been a central feature of my life, partly because of the way in which my mom and I grew as activists together. Feminism, antiracism, and decolonial forms of activism are foundational in my scholarly work and my daily life. In this piece, I take a light-hearted approach to the ways in which my mom and I took up feminism.
The Parsi community emanates from Persia and has been in South Asia for hundreds of years. In this narrative, I tell stories about my mom, Mahrookh, and me, as we learned about feminism together, on the West Coast of Turtle Island (North America). My mom grew up in India, the youngest with four brothers. Her dad, Nariman Munshi, was so keen to have a daughter that, despite my Granny's insistence on having only two kids, they kept trying until they got a girl! So she was named Rani—Queen—and she was treated like a precious gift by her parents. Tragically, her father was murdered when she was only twelve years old, irrevocably disrupting everything, forever. Her brothers became tougher than her dad had ever been. When she received an invitation from her aunt in Nairobi, Kenya, to help take care of the family while Masi (mom's sister) was convalescing from surgery, Mom jumped on the boat to escape. She had a lovely time in Nairobi and ended up married to Hoshang Shroff, my dad, within a few years, partly because her Masa (Masi's husband) thought it'd be a great way to keep her in Nairobi. Marrying at age seventeen was far too early, and my Granny was furious! She slapped Masa with a whopping strike! My mom and me had a feminist Granny, who inspired us. Moving to the lands of the Coast Salish Nations, where this narrative begins, provided us with even more opportunities to evolve as feminists. (Please see the accompanying video, which forms part of this narrative: https://zxxresearch.med.ubc.ca/resources/.)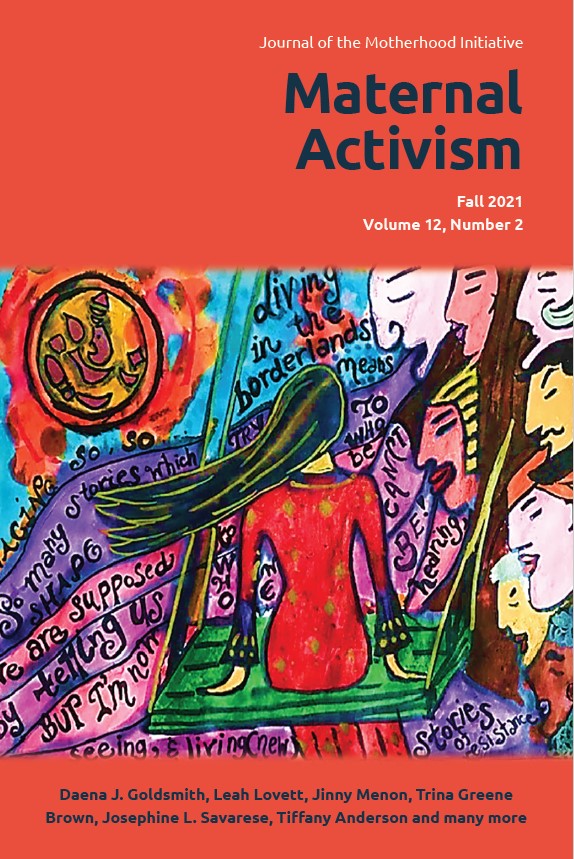 Downloads
How to Cite
Shroff, F. M. C. (2021). Embracing the F-Word Together: My Mom and Me Swearing by Feminism. Journal of the Motherhood Initiative for Research and Community Involvement, 12(2). Retrieved from https://jarm.journals.yorku.ca/index.php/jarm/article/view/40630
License
All intellectual property in relation to material included on this site belongs to the Motherhood Initiative for Research and Community Involvement (MIRCI). All material on this site is protected by Canadian and international copyright and other intellectual property laws. Users may not do anything which interferes with or breaches those laws or the intellectual property rights in the material. All materials on the Motherhood Initiative for Research and Community Involvement (MIRCI) are copyrighted and all rights are reserved. Any reproduction, modification, publication, transmission, transfer, sale, distribution, display or exploitation of the information, in any form or by any means, or its storage in a retrieval system, whether in whole or in part, without the express written permission of the Motherhood Initiative for Research and Community Involvement (MIRCI) is prohibited. Please contact us for permission to reproduce any of our materials. This site may include third party content which is subject to that third party's terms and conditions of use.