ohpikhâwasiw: kiskeyihtamowin âcimowin
She Raises the Children: Sharing Our Knowledges from Stories
Abstract
The stories we braid within this article bring together narratives of Indigenous mothering, which highlight the importance of culture and kinship to support the healthy development, safety, and wellbeing of our children. In our motherwork, we resist colonial forces and counter child welfare practices and the profession of social work, which enforce Eurocentric parenting and enact racist policies that continue to remove Indigenous children from their families at a disproportionate rate—a continuation of assimilationist tactics and genocide of Indigenous peoples enacted during the residential school era, the Sixties Scoop, and ongoing genocidal policies. Our braided stories provide a counternarrative—one of resistance in (re)claiming Indigenous mothering, stories of resiliency in (re)webbing kinship systems and stories of hope in (re)membering our cultural identities. In (re)claiming, (re)connecting, and (re)webbing, we acknowledge being in different places in our journey of Indigenous mothering. Some of us have been born into the web of our kinship systems, whereas others have been on a journey of reattaching the threads to reassemble the intricate web of kinship, culture, and community. In the spirit of reconciliation and the decolonization of child welfare practices, our work serves as a counternarrative—liberating our realities from the dominant negative stereotypes imposed by colonial systems and oppressive forces—and provides insight into the power of Indigenous mothering. Indigenous mothering provides the love and nurturing, as well a web of kinship, that support and establish life-long relationships that will sustain the wellbeing, resurgence, and prosperity of our families and communities.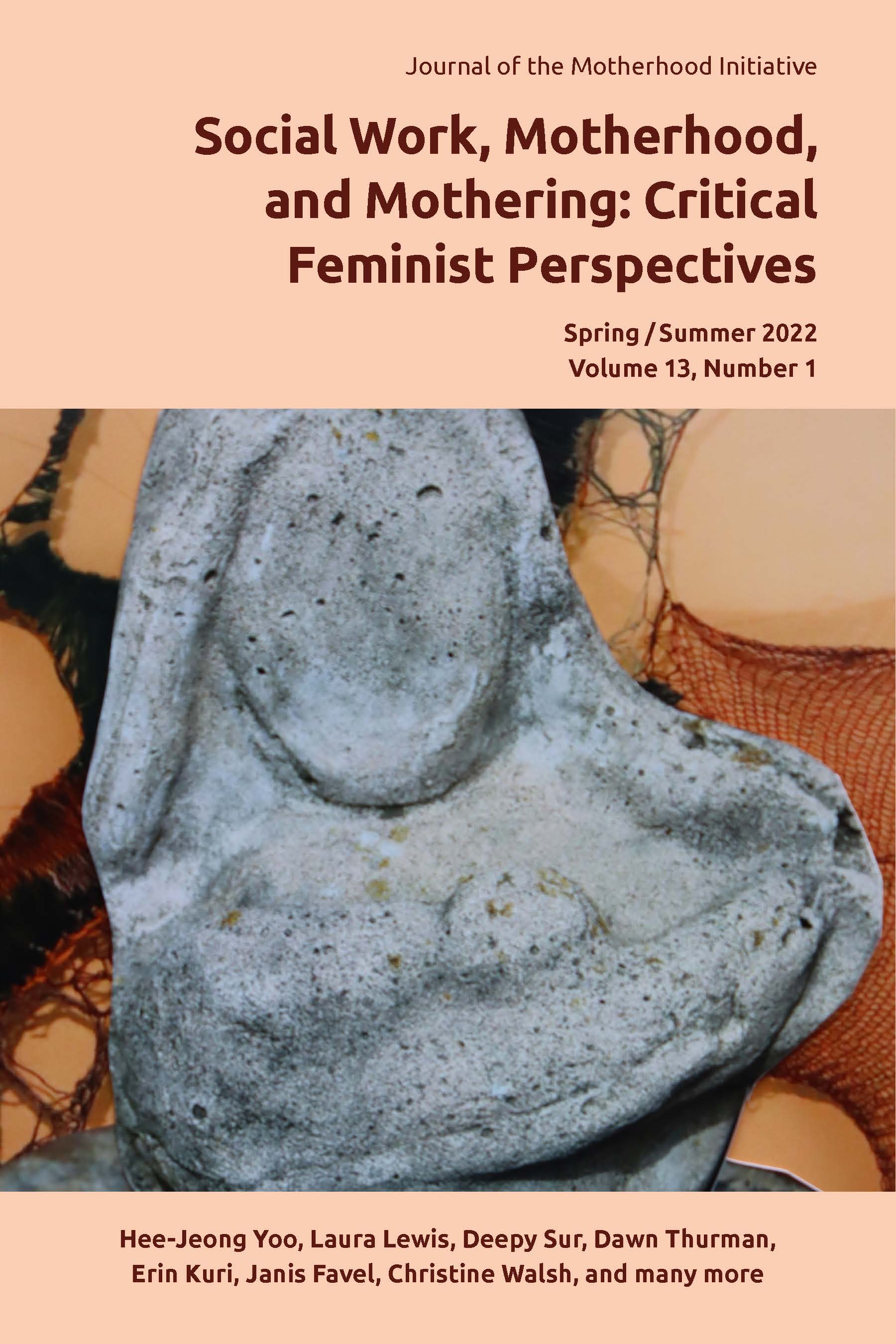 Downloads
How to Cite
St-Denis, N., Favel, J., Moore, J., & Walsh, C. (2022). ohpikhâwasiw: kiskeyihtamowin âcimowin: She Raises the Children: Sharing Our Knowledges from Stories. Journal of the Motherhood Initiative for Research and Community Involvement, 13(1). Retrieved from https://jarm.journals.yorku.ca/index.php/jarm/article/view/40650
License
All intellectual property in relation to material included on this site belongs to the Motherhood Initiative for Research and Community Involvement (MIRCI). All material on this site is protected by Canadian and international copyright and other intellectual property laws. Users may not do anything which interferes with or breaches those laws or the intellectual property rights in the material. All materials on the Motherhood Initiative for Research and Community Involvement (MIRCI) are copyrighted and all rights are reserved. Any reproduction, modification, publication, transmission, transfer, sale, distribution, display or exploitation of the information, in any form or by any means, or its storage in a retrieval system, whether in whole or in part, without the express written permission of the Motherhood Initiative for Research and Community Involvement (MIRCI) is prohibited. Please contact us for permission to reproduce any of our materials. This site may include third party content which is subject to that third party's terms and conditions of use.