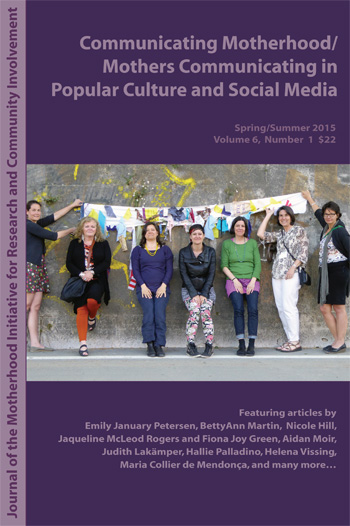 Front cover photograph:
Photo: Barbara Bickel, "Dream Scroll," Rome, April 2015. From left to right, Angie Deveau, Andrea O'Reilly, Sara Paiola, Michelle Tarnopolsky, Nané Ariadne Jordan, Laura Zegel, and Eti Wade
Artists' statement: The cover photo captures a spontaneous moment of women holding the Dream Scroll, releasing our collective dreams by those who participated in a Nap-In workshop. The Nap-In, a creative, active-resting practice of the Gestare Art Collective (www.gestareartcollective.com), was facilitated by Nané Jordan and Barbara Bickel at the MIRCI conference on "Maternal Subjectivities" held in Rome on April 24, 2015. Dreams are generated during the Nap-In, and then recorded in fabric onto the Dream Scroll. After the workshop we took the Dream Scroll to the Tiber River. Since 2011, Gestare Art Collective members have developed the creative practice of Nap-Ins as a community art practice in galleries, community centers, university classrooms, schools, conferences, retreat centers, libraries.